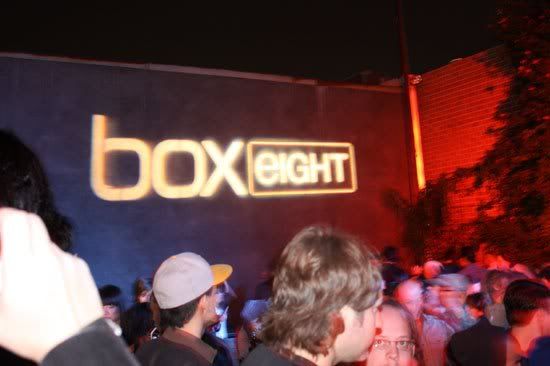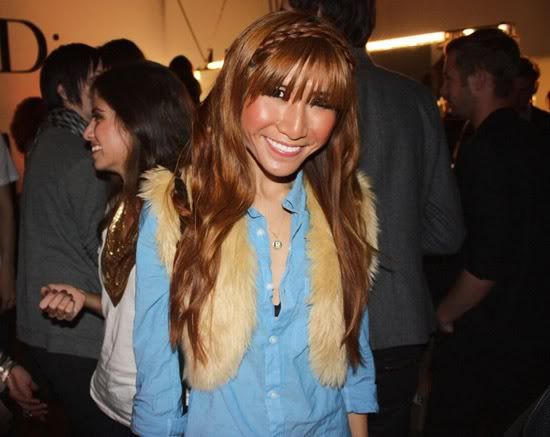 A refreshing experience in the middle of L.A. Fashion Week was BOXeight Fashion: Refocus, held March 19 – 21 at BOXeight Studios.  Featuring an intimate behind the scenes look at 14 designers' Fall/Winter 2010 Collections, attendees not only had the opportunity to watch models strike a pose in the designers' creations, but also got to observe top-notch photographers in action.
Throw in a stylish crowd, good energy and a non-traditional viewing experience, and you get a standout event among a sea of traditional shows/presentations.  I attended Saturday night and saw collections from Eduardo Lucero, Lekuin, Michael Costello, Lloyd Klein and Le Sang Des Betes.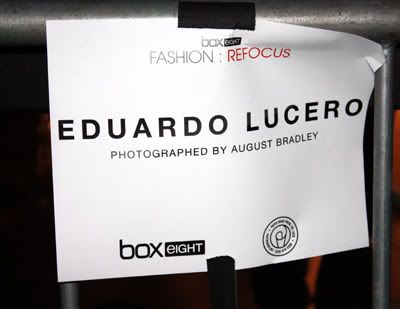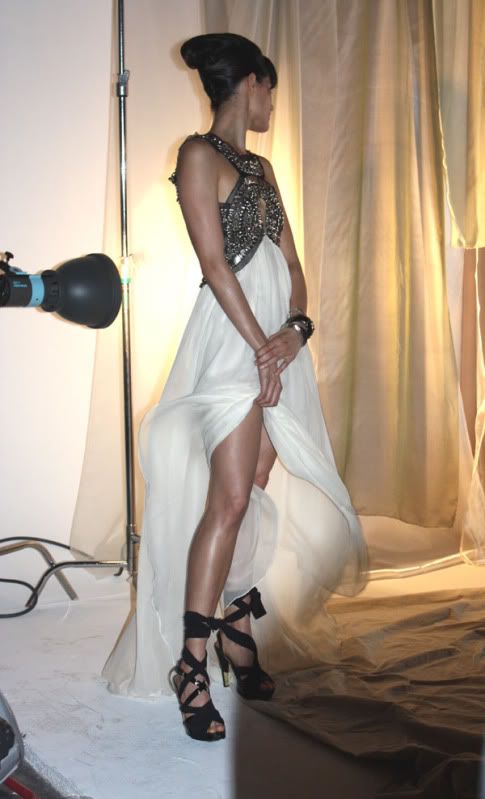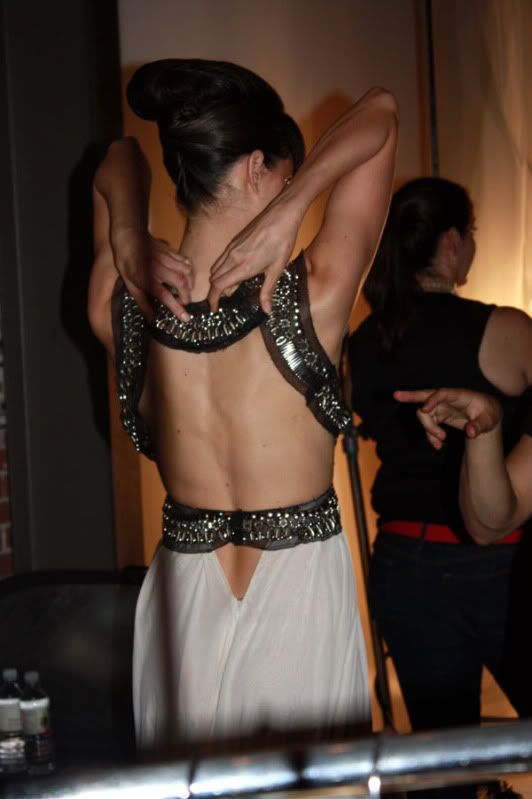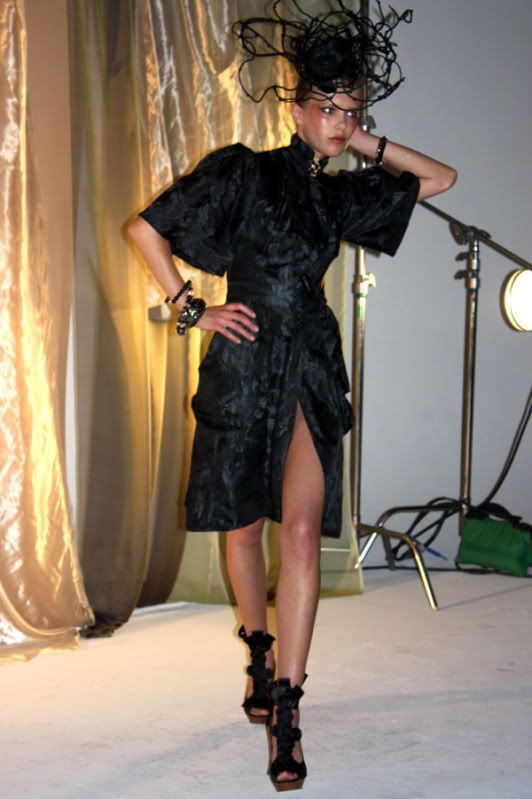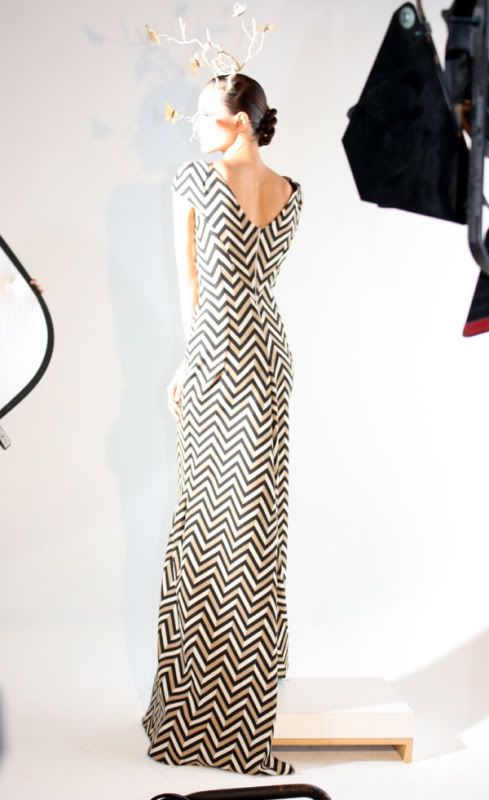 Based in Los Angeles, designer Eduardo Lucero is known for his vivid colors, feminine detailing and romantic & curvaceous shapes.  The standout among the looks that I saw was the dress (pictured first) with the amazing beading detail and cutouts.  The headpieces added a creative touch, further enhancing the drama of his collection.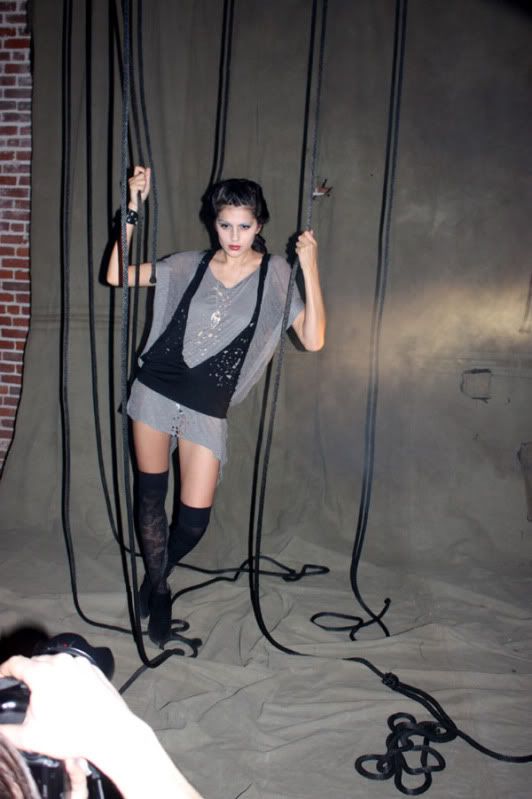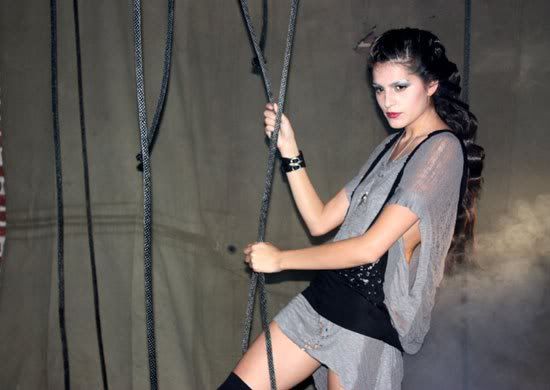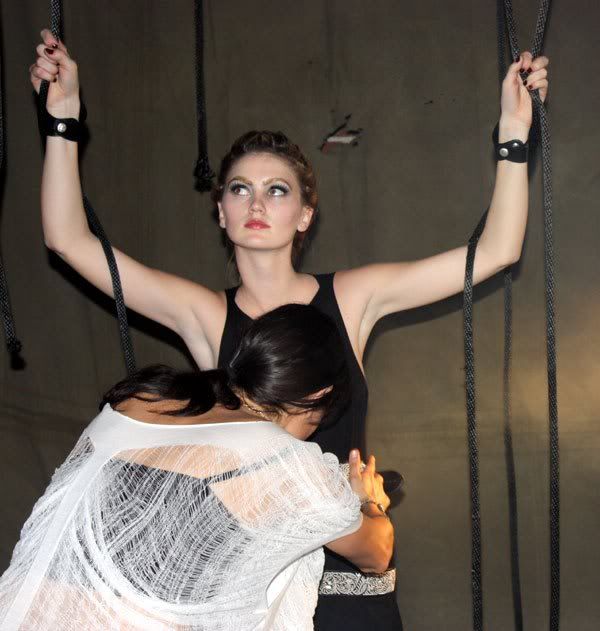 I love the idea of saving recycled material and creating something new.  As the core genius behind LEKUIN, the designer cuts and distresses rescued fabrics, carefully piecing them back together all by hand to create a special, one-of-a-kind garment.  Topped with an industrial but delicate vibe, I was feeling LEKUIN.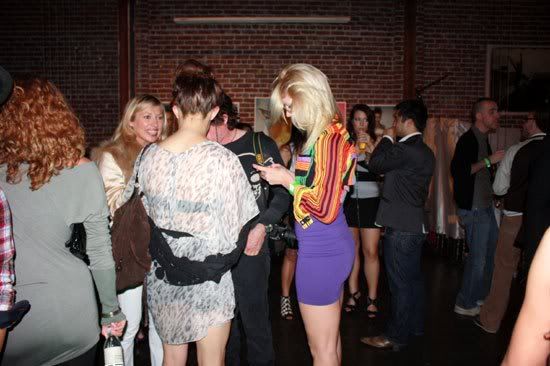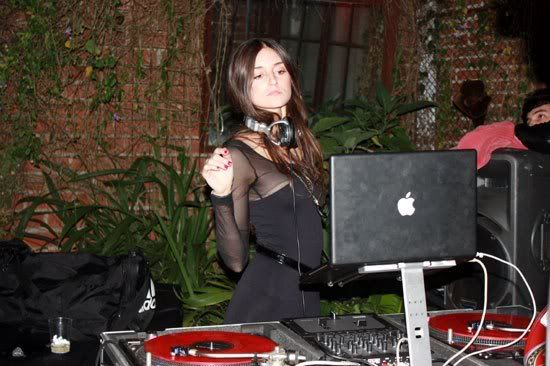 DJ Caroline D'Amore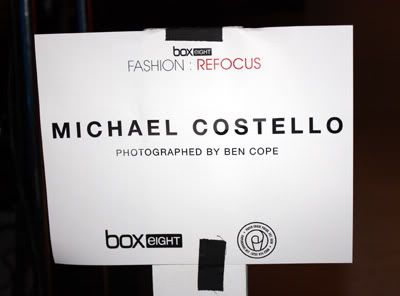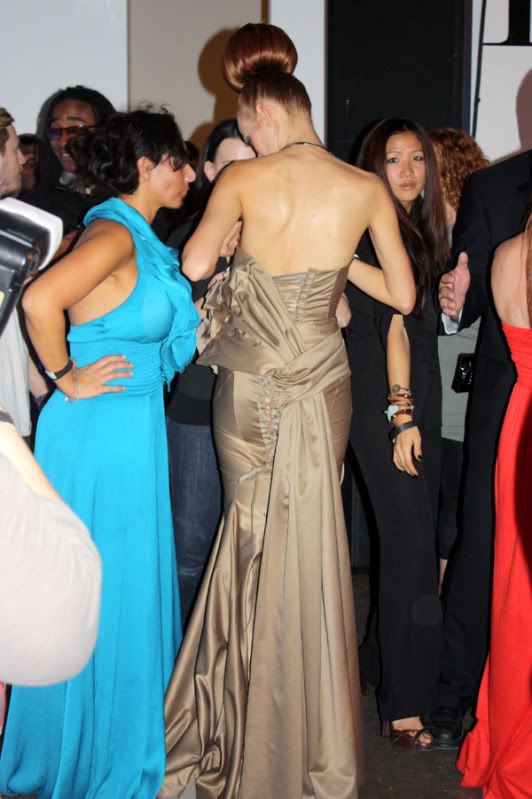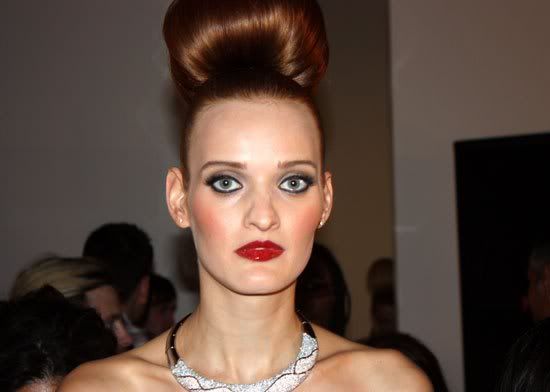 Stunning is one word that easily comes to mind when viewing American Couture Fashion Designer Michael Costello's collection.  Combined with amazingly gorgeous hair, his gowns were beautiful and definitely an elegant highlight of the presentations.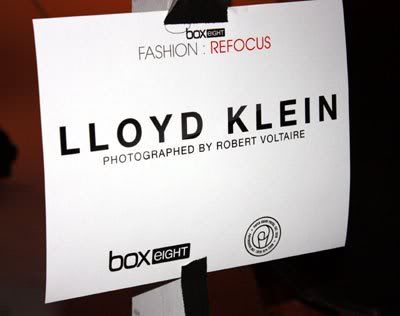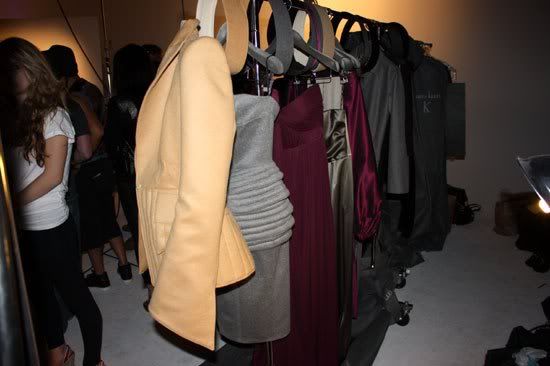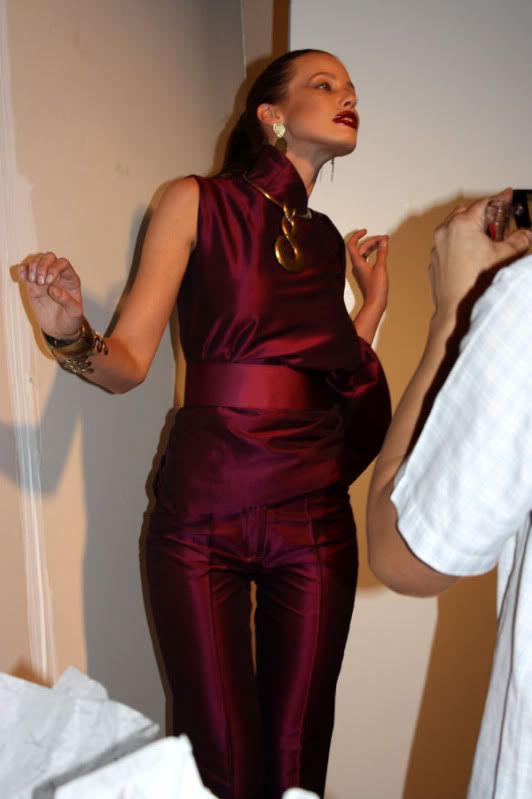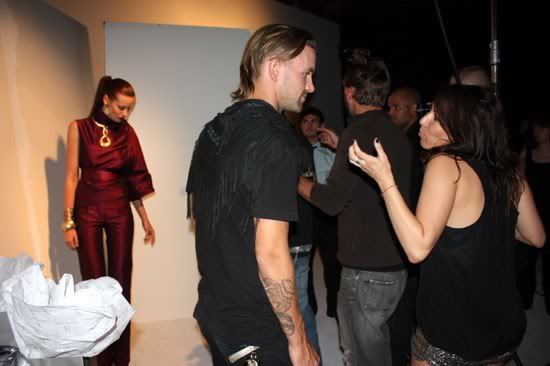 After seeing designer Lloyd Klein's collection, it's no surprise that he initially trained in architecture.  Using luxurious fabrics, his pieces are chic and timeless, with great care to detail.  Check out that amazing necklace paired with the tan coat… wow.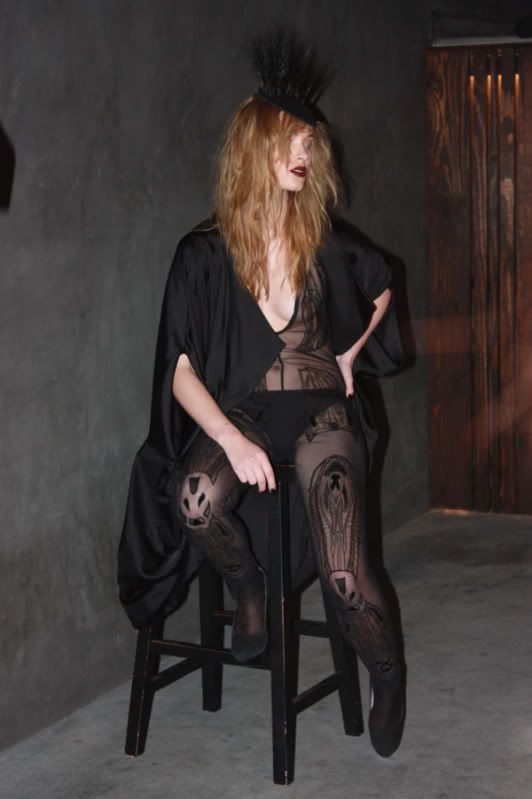 The mastermind behind Le Sang Des Betes is Trang Chau, a Los-Angeles based artist and designer, who has a background in sculpture, film, architecture and costume design.  With a modern gothic vibe, the collection showcased feather headpieces that distracted you from the see-through garments… for a second.  I did like the intricate patterns and details, and could see myself wearing the leggings with an oversized shirt.
I'm wearing a vintage faux fur vest, H&M men's shirt, James Lillis Cage leggings, Jeffrey Campbell Doo shoes & Topshop bag.
* All photos were taken by me, unless otherwise noted.
Participating designers Friday & Sunday nights included:
Skin Graft | Gold Spun | Funktional | Isabel Lu | Orthodox | Kanvis | Gabby Applegate | Future Heretics | Postage