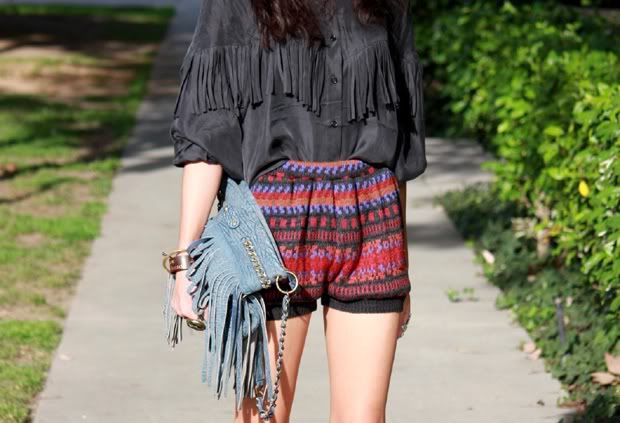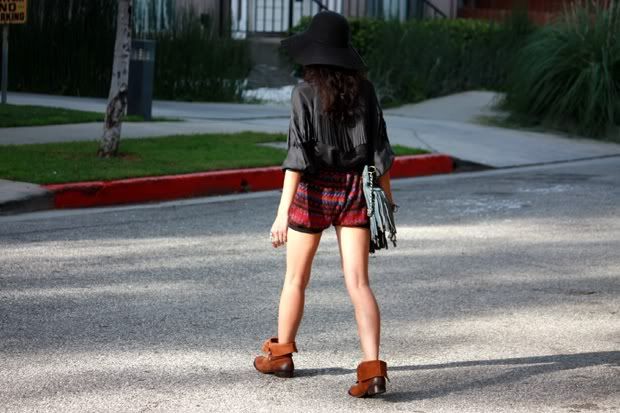 Erin Wasson x RVCA shirt. Urban Renewal shorts via Urban Outfitters. Steven by Steve Madden boots. fringe bag from a boutique in Hong Kong. hat via a local L.A. mall stand
Heck yes to shorts weather in January! (Los) Angelenos have been spoiled rotten with high 70′s temps this whole weekend. Having a bad hair day? What about a bad makeup day? I strongly recommend the floppy hat for these less than perfect days. It's a sure-fire solution that will cover 85% of your face, and of course, 100% of your head.

I'm slowly turning into the cat hat lady. Over the last week, I've bought 7 hats and 5 in one hour. After buying one hat at Bloomingdales, I made the mistake of stopping at the mall hat stand where I got into a little bargaining ordeal. Let's just say my experiences from bargaining in Hong Kong and Beijing surely paid off as I pulled the "I'm walking away" card when the vendor wouldn't accept my preferred price. Works every time.

And in honor of today being Martin Luther King Jr. Day, I'll  leave you with this:
We may have all come on different ships, but we're in the same boat now.

XxX

Becs