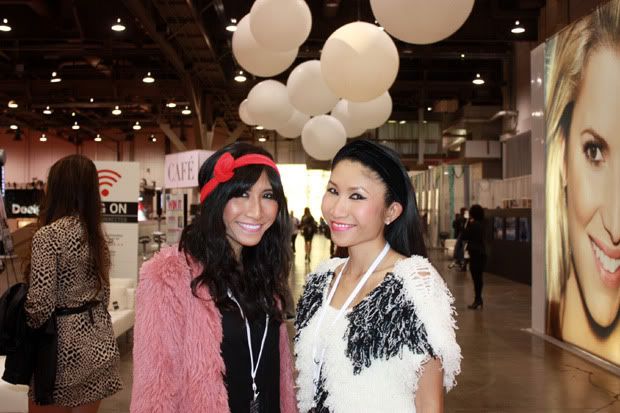 in my Valentine's Day-themed look, wearing Storets coat, H&M blouse and pants, Dolce Vita boots and American Apparel headband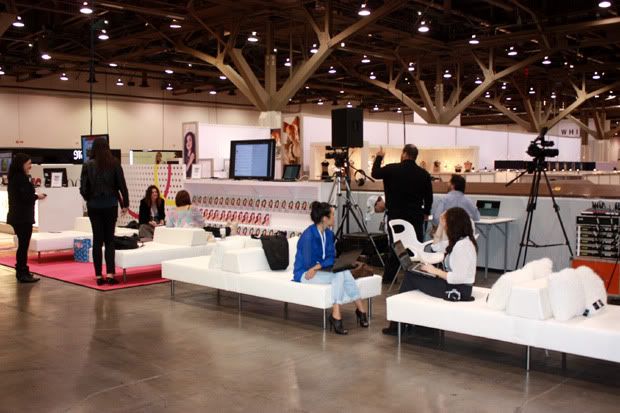 WWDMagic Teen Vogue Blogger Lounge, a.k.a. home base
had so much fun hanging with beautiful & talented sisters Natalie of Natalie Off Duty and Dylana of Color Me Nana (heart you both!)

resting our feet in the Teen Vogue Blogger Lounge, with Dylana and Elim of The Style Seen
So You're A Blogger? Now What!
panel discussion featuring Erin Weinger of Style Section LA, Crosby Noricks of PR Couture, Erica Domesek of P.S. I Made This, Jane Aldridge of Sea of Shoes and Hilla Ohayon
video of the entire panel discussion can be seen HERE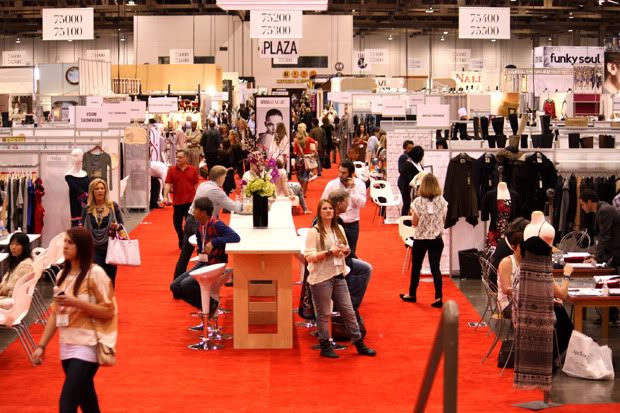 with a daughter named Audrey and her three siblings, family owned brand, Audrey 3 + 1's name was born (love hearing special stories like this)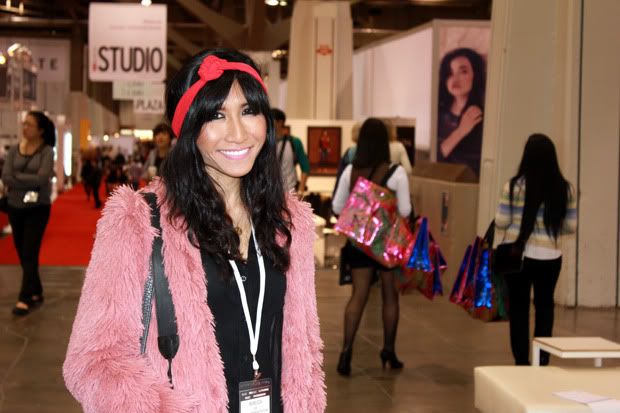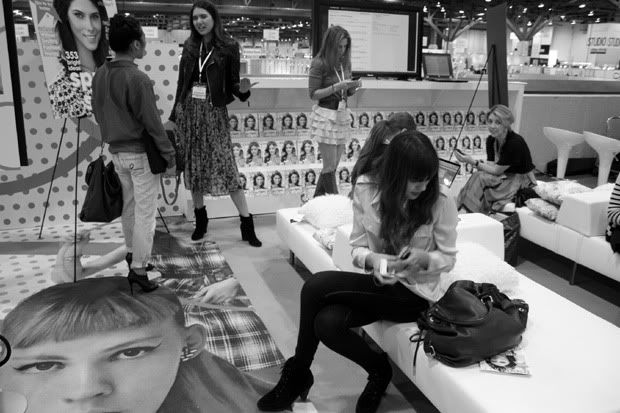 Kensie hosted a sweet reception, complete with pink bubbly & chocolate.
Thanks so much to Hayley (taking the photo above) for being so amazing to all the Teen Vogue bloggers.  She definitely made a great impression on behalf of Kensie and now has a new fan of the brand.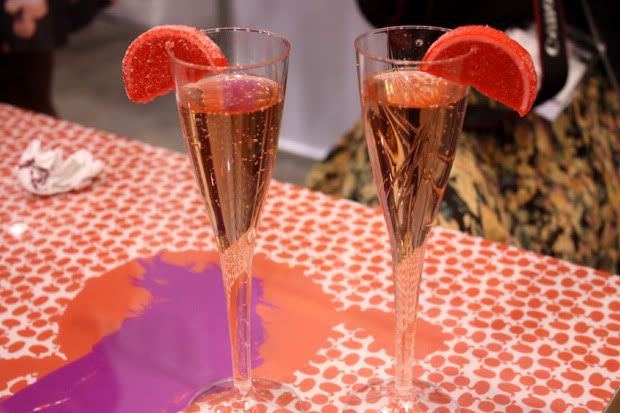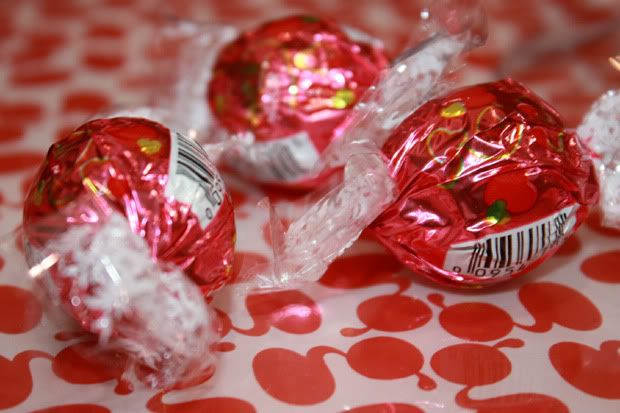 playing with our sugary sweet jelly candy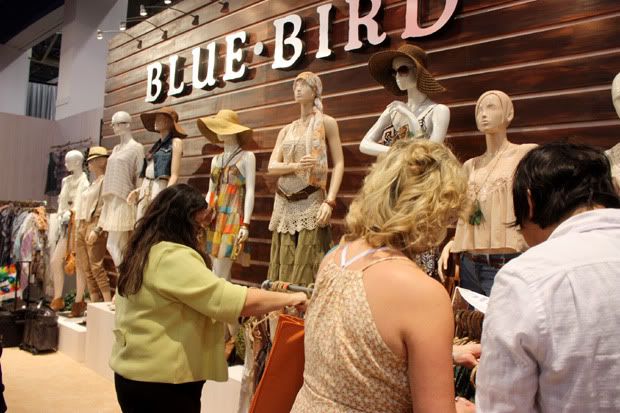 buyers were going crazy at Blue Bird — one of the busiest booths at WWDMAGIC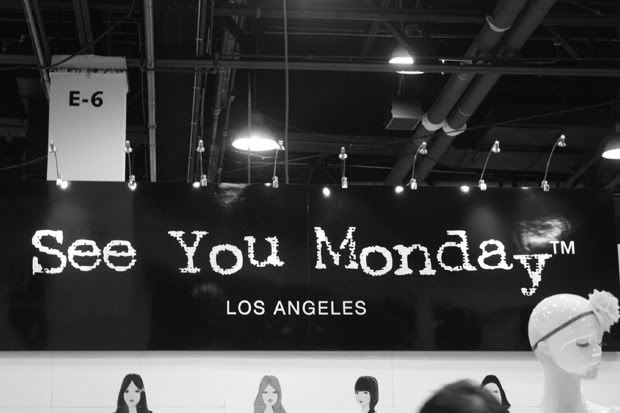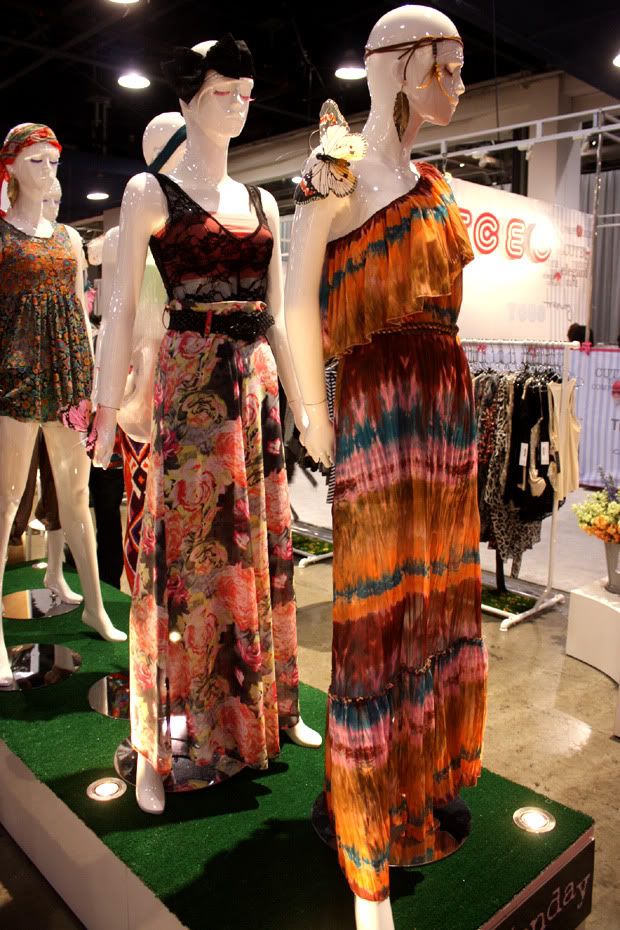 tie-dye, leopard print & feather trim dresses at See You Monday LA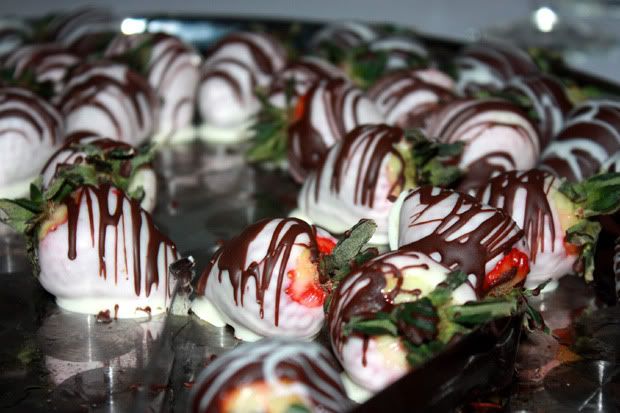 wrapped up day 1 with yummy (and pretty) treats, including these parfaits and chocolate covered strawberries

cool looking circular sofa = automatic photo opp.
gambling with Kristen of Be Vain or D.I.Y.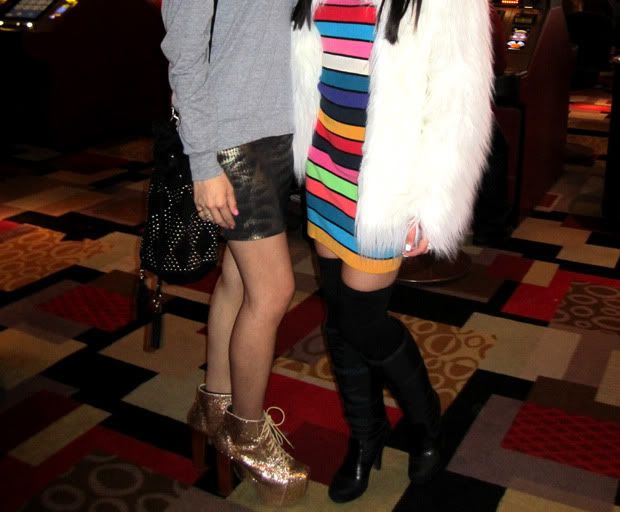 my Jeffrey Campell gold glitter Litas made a Vegas appearance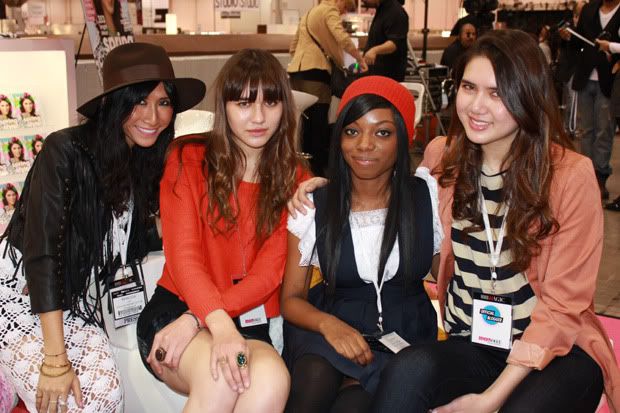 day 2 of WWDMAGIC with Natalie, Jazzi of Jazzi McG and Dylana (L.A. bloggers <3)
wearing Effigy 49 dress via Pixie Market, H&M jacket, Aldo boots and Ralph Lauren men's hat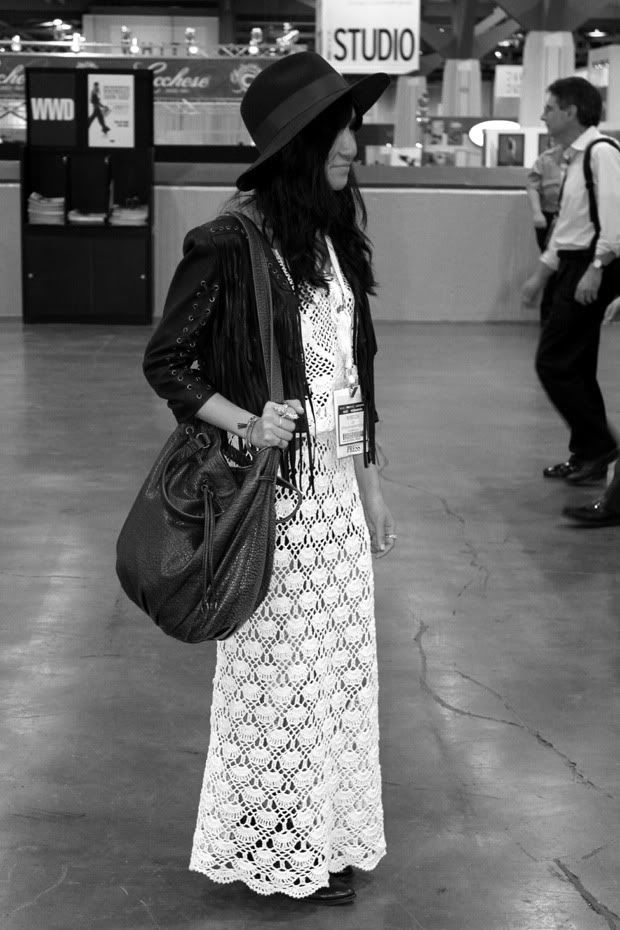 second panel featuring Rebecca Minkoff CMO Daniel Saynt, Jane of Sea of Shoes, Erin & April of Boutiquing.com, with Macala of Fashionably Marketing moderating

check out Kristen's snazzy D.I.Y. brooch on a rope!

photo by Elim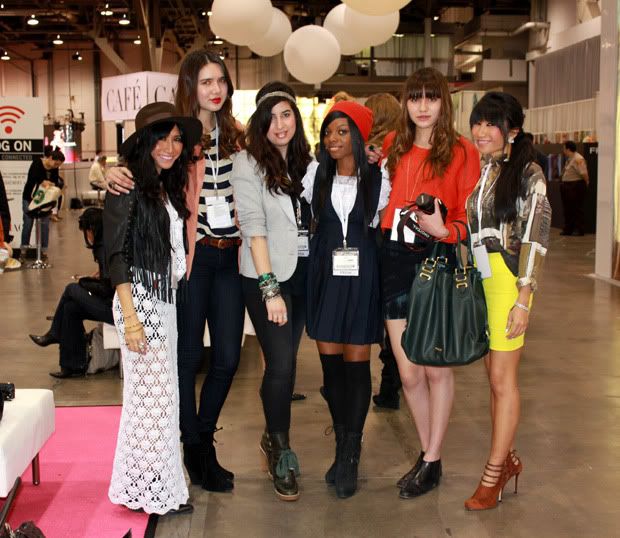 with Dylana, Taisa of Amahzing Blog, Jazzi, Natalie and Melanie
When people find out Mel and I are twins, they usually ask whether we have similar styles.  As you can see, I'm more of a bohemian-fringe-loving-cowboy boot wearing gal while Mel is more the glam-polished-uptown-vibe-heel wearing type.  (photo by Taisa)

while checking out Aryn K, we met Akira Chicago owner Erikka and Sarah who were picking up amazing pieces for the store
in the afternoon, we headed to Project at Mandalay Bay where we saw brands such as Wildfox, Dolce Vita, and Buffalo David Bitton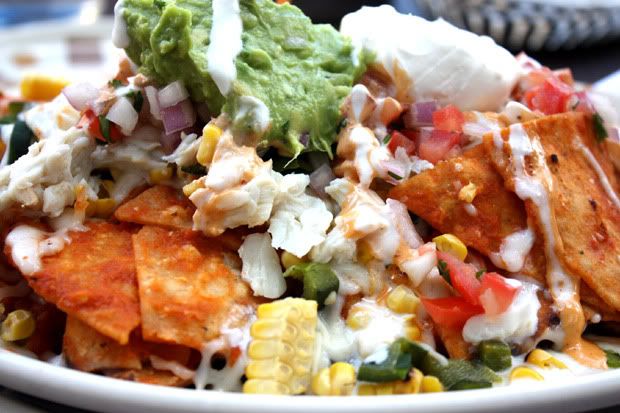 mmm… crab nachos
wearing a Bebe mesh cutout dress with Kristen, Mel, Elim and Ashley of Fashionably Ashley at the Hudson Jeans – Creative Recreation party at Marquee LV in the Cosmopolitan (so posh)

thanks so much to HUDSON for throwing one helluva good time!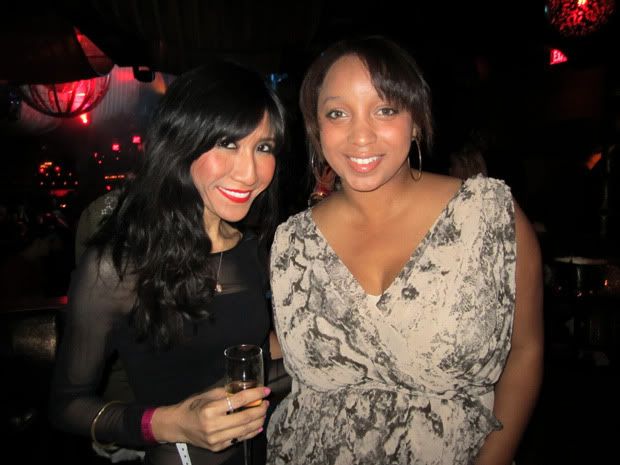 cooling down outside after a full on dance fest (such good music throughout the night) with Natalie, Dylana, Taisa, Mel and our new friends from Paris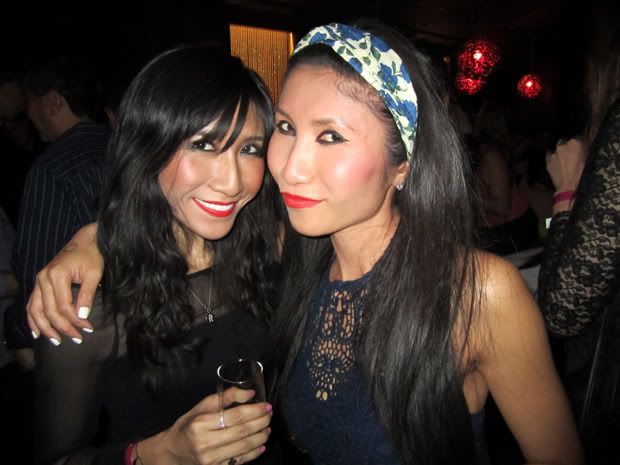 Bring 35 fabulous bloggers to Vegas for three days, letting them roam WWDMAGIC with more than 1,300 brands, and it's bound to be a content building, buzz generating, networking-love fest.  Looking back, it was just an incredibly exciting experience to meet the creative forces behind some of my favorite brands, and to be among the buyers getting a sneak preview of summer and fall collections before they hit stores.
There were way too many highlights to fully list out, but my favorites include talking to the fabulous Creative Director of BB Dakota, Katharine Brandes, while previewing the brand's summer and fall lines (so many great pieces!); meeting the Kensie team during their champagne party; and simply being around all the other amazing bloggers who were just as excited as I was to be a part of the WWDMAGIC experience.
It was also encouraging to meet with brands that are fully embracing bloggers and have a strong social media presence.  As we begin to see more and more designer collaborations with bloggers, brands are understanding the influence bloggers today have in the retail arena and the impact they can make on their customers.  When a brand gets it, there's a win-win situation for everyone involved.
HUGE thank you to WWDMAGIC, Teen Vogue and Fashionably Marketing!
And lastly, thanks to Style Caster for including me (along with Mel, Natalie & Jazzi) in its Best Street Style from PROJECT feature!
(Stayed tuned for future posts featuring BB Dakota, Buffalo David Bitton, Aryn K, Hollywood Trading Company, and One Language.)
XxX
Becs