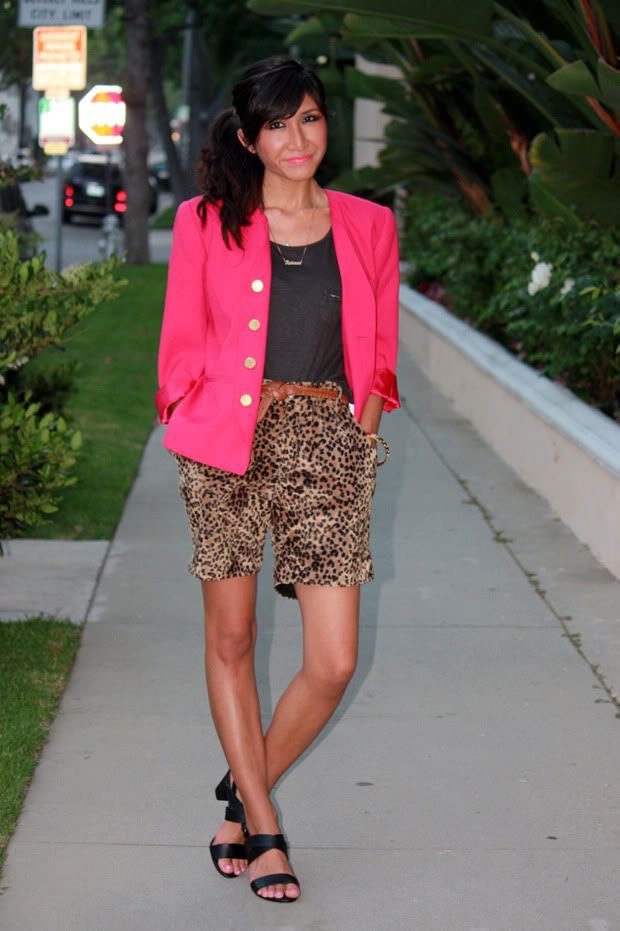 Vintage blazer via L.A. Vintage Exchange. Phamous shorts via Pixie Market (similar shorts at ModCloth). Zara t-shirt and shoes (on sale for $30 right now)
Thanks to the amazing Courtney, owner of L.A. Vintage Exchange, I scored this boxy 80′s-esque hot pink number for less than the cost of my go-to Coffee Bean Malibu Dream drink.  As chronicled here, rarely do I wear heels.  You know when people say there's nothing worse than a girl who can't walk in heels.  Well, I'm borderline THAT girl.  Lucky for me, I found these comfy heels on sale for $30 at Zara this weekend, perfectly fitting for my rusty-walking-in-heels-self.
This post is dedicated to my mom who called me yesterday from NJ just to scold me about posting photos of shoes for two days in a row.  Here's my outfit post, mom!  Happy now?  Love you.

I believe in pink. I believe that laughing is the best calorie burner. I believe in kissing, kissing a lot. I believe in being strong when everything seems to be going wrong. I believe that happy girls are the prettiest girls. I believe that tomorrow is another day and I believe in miracles.    ~ Audrey Hepburn

XxX