** U P D A T E **
Got to meet Olga last night at the wrap party for REMODELED and she is just as gorgeous in person! See photo below. Tagged along with my sister Melanie who was invited because she's a contributing fashion writer for The Network Community site. Also had the opportunity to meet THE man himself, Paul Fisher, and his assistant Joseph. Passionate people who are changing the modeling industry one small agency at a time. After the episode ended, Paul's speech was nothing short of inspiring.
**************************
Ever since I jumped on the Tumblr bandwagon a little over a year ago, I quickly got up to speed with who's who in the modeling industry and now mostly follow model-centric Tumblrs. Some of my favorite models include Daria Pleggenkuhle, Anya Summers, Bregje, Bambi, Shu Pei, Karmen Pedaru and Arizona Muse.
SO you can imagine my excitement when the reality show, REMODELED, first premiered on The CW, and my ensuing, inevitable disappoint about tonight being the season finale. REMODELED follows industry vet Paul Fisher and his team as they visit and make over small agencies to meet the standards of his new venture, The Network. Highly entertaining with Paul's no holds barred honesty and extremely insightful from a man who has worked with the highest-profile models — Naomi Campbell, Stephanie Seymour and Carol Alt — I'm looking forward to the return of REMODELED in the summer.
Excited to share my interview below with Olga Tavarez, Vice President of The Network, who first started her career as an agent at IMG. Thinking about venturing into the modeling industry as an agent or scout? Then make sure to read all the way through!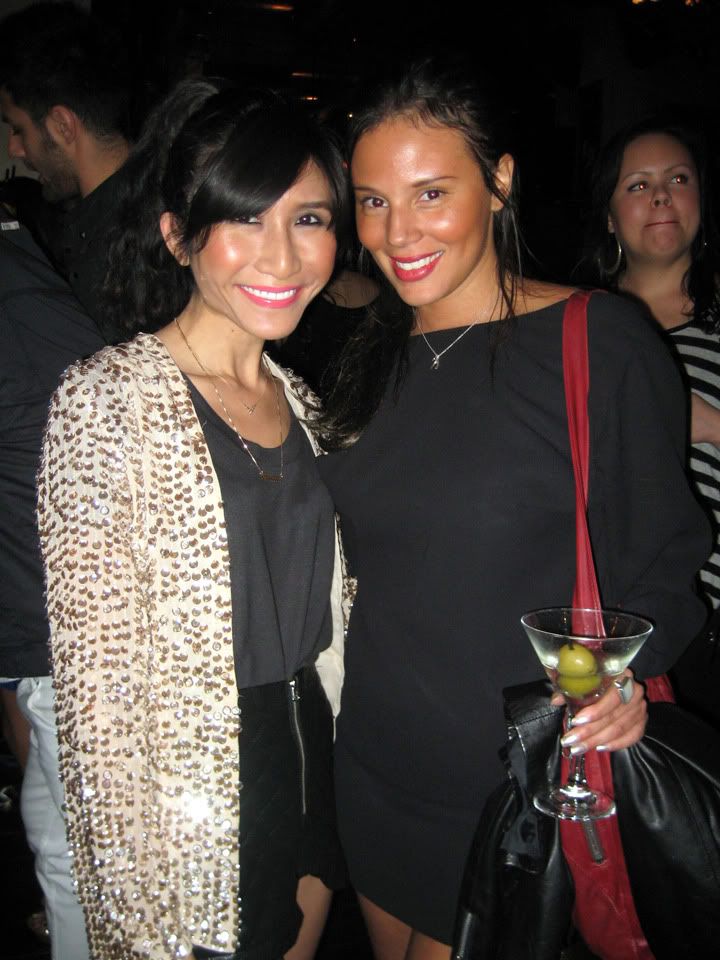 SwB:  Who were some models you managed during your time at IMG?
OT: I worked mostly with Men while at IMG — there were a lot of big names on the men's side in 10 years. Chris Mcmillen was my discovery and the Prada Model for a few seasons. Tyson Ballou was probably the biggest male model in the industry and I represented him, as well as Ryan Kennedy who I personally developed and launched.
 SwB:  How do you think the modeling industry has changed over the last few years?
OT: It's changed because of the economy mostly, not enough jobs and too many models. The turn around is also faster and faster because the industry constantly demands new faces. It's gotten tougher and much more competitive.
SwB:  With NYFW just wrapping up, what were your favorite trends on the runway? Fashion-wise and/or beauty-wise.
OT: I loved the metallic and gold fabrics that were used everywhere, and all the deep burgundy colors mixed in –  the low waist on skirts and dresses is one of my personal favorite ways of dressing so I was happy to see it was a big trend for Fall 2012. The bold eyes were another trend and I really enjoyed the playfulness, and bright colors on some, like Prabal Gurung's line – reminds me of Ziggy Stardust.
SwB:  Who are your favorite designers?
OT: Philip Lim, Rag and Bone, Diesel Gold, Ellie Sab, Calvin Klein, & Alexander Wang
SwB:  Do you follow any modeling blogs, or even fashion/beauty ones? And if so, which ones are your favorites?
OT: Not really blogs – but my bible is Models.com. I like the ones to watch too — Style.com and the TheSartorialist.com which is a street style blog – are my go-to sites for fashion, models and what's current.
SwB:  Can you give an update about Meghan Wiggins? Where can we expect to see her next? Any upcoming campaigns?
OT: She's doing amazing – she's shot for a few different magazines in Europe and some are possible covers. She also did a high end watch campaign as well. It's for Ritmo Mundo. If you're in LA you'll see them on Rodeo Drive soon, and she's ready to go back to NY now too. She's going to be a big star — I have no doubt at all.
SwB:  Based on the cities you visited and the agencies that were remodeled on the show, is there one city in particular, that has the most potential to find the best talent?
OT: The Sigal Family in Ohio — they are so hard working and just a pleasure. They are finding amazing new faces every day and we think they are about to be on the map in a big way.
SwB:  Is there a strange place that you discovered a model? Or is there a funny story behind finding a model that you can share?
OT: Um, it's always at the mall if I'm scouting. Once I saw this boy I found, and I told him he should seriously consider it – because he was perfect for Versace, and he looked at me really confused and innocently asked – what's Versace? I loved it. The funny thing is he ended up working for Versace – the show, and the campaign!  I think he knows who Versace is now.
SwB:  Who are your favorite models, outside of The Network (of course!)?
OT: Freja is my favorite at the moment and has been for awhile. I think Barbara Palvin is beautiful too.
SwB:  Who are your favorite photographers to work with?
OT: My favorite is Mert and Marcus because I love their work and admire it. They can take a model that's been shot a million times, like Kate Moss, and make her look NEW again. I also love Steven Meisel – he's the ultimate,  and has been Vogue's main photographer for many years, which is the most prestigious magazine still. And another amazing  photographer is Craig Mcdean who is probably the best right now. He's shooting almost everything for Interview Magazine and W, which are the most cutting edge high fashion magazines out there.
SwB:  What's your advice to someone who may want to become a model agent or scout? Without any experience, what are some qualities they should possess?
OT: A love of models, fashion, & art – people never think about it but photography as an art and as the visual medium is a huge part of what we do. We have to understand it and admire it truly in order to compete and really know how to – all those things are so important. You also need to be selfless – it's all about making other people's dreams come true, which is a really great thing to do for a living.
**************************
So insightful, right? Thanks so much, Olga! Catch the season finale of REMODELED tonight at 9/8c on The CW!
Not sure if I ever mentioned this but Mel and I did some modeling when we were youngins and worked with an agent. We mostly did print jobs — our faces are in a number of elementary textbooks. It was fun when we were kids — mostly because of our excitement for getting to wear a little blush on our cheeks when we went into NYC for auditions. We even auditioned for a Doublemint commercial since we're twins (fraternal though), but failed terribly to synchronize our jump roping. Needless to say we didn't get the commercial!
Looking back, our young modeling experience was my first taste of rejection and likely has taught me to not let temporary setbacks or challenges deter me from achieving my goals. Not to get all psycho-analytical about my little modeling experience but it definitely made me grow a tougher skin and learn the over-arching life lesson that if at first you don't succeed (brush your shoulders off), try again. And again. And again!
xx